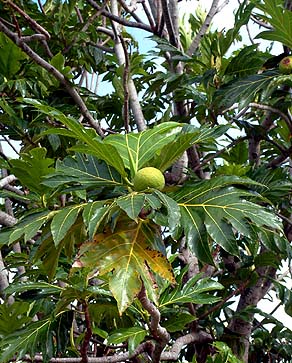 "I didn't see a whole lot of agricultural activity with regard to breadfruit," Ben ponders. "We thought breadfruit was naturally occurring, and so not very many people planted breadfruit. As I grow older, I see that was a mistake, because there are diseases that were introduced, maybe from other Micronesian islands, and they nearly succeeded in exterminating all our breadfruit trees.
"Now they are coming back. I guess they've become tolerant to whatever disease that was introduced, and now we have quite a few breadfruit trees on the island. And our people started to propagate them, including myself. I have one back here, and because I concentrate on fishing just before this dry season approaches, I need to put back that breadfruit tree in the soil."
"The old folks planted banana, taro, anything that could be eaten," Pete remembers, "but my grandfather was planting banana. He planted a lot of banana, because he used that for alcohol. They'd make it ripe, and they'd put it in a big container. They'd harvest all the bananas before they were ripe, then they'd ripen them off the tree. Soon as they were ripe and very soft, they'd peel them and put them inside the big container and smash them up.
"Then what they'd do is drain the banana, remove the liquid, and then start boiling it. As they cooked that liquid, there would be a pipe going from the pot where the banana liquid is cooking straight up to a container; so anything that came out, that was liquor--like 100-proof liquor. They called it aguayente. 'Agi' for short."