"There's another rain that we call uchan maotai, which means the 'rain of death.' I could be sitting here and if it rains with the sun out and raining down, I'd say 'Ah, somebody died.' It just kind of tells us that; I'd say a more than 50% chance that somebody died. We associate all of that with natural things that are happening."
"When there's a heavy cloud with rain and there's the sun and it rains," Rosa Castro says, "we call that the 'rain of sickness' or the 'sick rain.' If there's a rainbow and it rains, that's what they call uutimaay. That's the 'rain of death.' The children cannot go out under that kind of rain."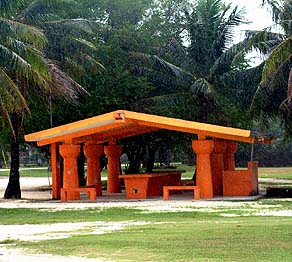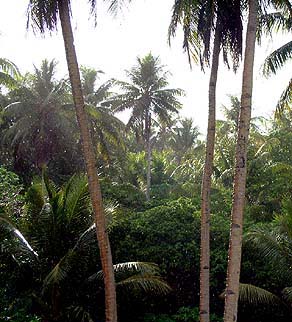 "When the sun is shining and there's a rain, we say that somebody is going to die," Joaquina explains "and also we say it's 'fire rain,' úshow malame. That kind also, we tell our kids not to be under, and not to be caught by, because they might get sick.
"The sun's still up there and there's light and rain," Yoane adds, "that kind of rain is not good for us, because it rains something bad."
"The name of the rainbow is isa in Chamorro," Ben adds, "Anúúmwarahi, that's the rainbow in Carolinian. Rásiim is also another name for the rainbow. It is associated with this 'rain of death.' The older folks, when they see the rainbow and rain, they call that the 'rain of death'."
"When there is a sudden end to the rain, and there is no dripping of the rain, we say someone is going to have a baby. We call it 'instant rain.' When we see that, we say 'Oh, I wonder who's going to deliver?'
"Like when we're sitting outside and the rain just comes," Cathy says, "then stops right there, like maybe the wind blows it away, we call that 'instant rain.' Our belief is that somebody is going to have a baby."
"Pouring rain, when it's really raining, that's úshow," Joaquina states. "It's a healthy rain. We can use it to catch our drinking water, because we believe that when it's really pouring, it washes out the dirt first, and then you can catch what's next. That's a really heavy rain."