"Afil yang is the cool wind," says Joaquina, "you know there's the wind that's blowing, and then sometimes in the evening there's a cool wind that blows, or early in the morning, or sometimes even in the afternoon there's a cool wind that is blowing. That is afil yang. When there is typhoon and it is not very strong, we say that it's 'banana typhoon' because only the bananas fall over, not the house."
"It's what they call a tropical depression," Cathy adds. "Everybody knows that when they say 'tropical depression' it's a 'banana wind,' it's not one that's a typhoon already. But the navigators, they have their own words for wind that we women don't know about."
"There are a lot of typhoon warnings" Ben explains, "but that does not necessarily mean we get hit by the typhoon every year. Almost every year we have maybe up to ten typhoon warnings, and some of them end up becoming super typhoons, meaning they have winds beyond 150 miles per hour."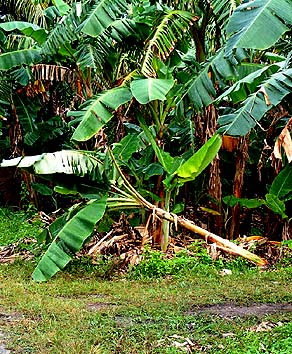 Banana tree down after a strong wind.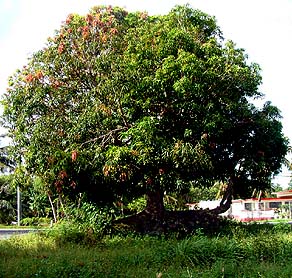 "Typhoon Ponsana that recently hit Guam and Rota went about 170 miles per hour. The devastation is huge, a tremendous disaster. We were spared that time; Saipan had hardly any damage. But back in 1983, maybe '86, Super-typhoon Kim hit us here. A lot of trees went down.
"Some of the mango trees are very strong and deep-rooted, and so they withstood the typhoon, but there were no leaves on any of these trees here. They were all denuded by the strong winds. Coconut trees are hardy trees. They're also deep-rooted, and so they withstand a lot of these typhoons. A lot of their fronds get broken off, but then they regenerate again. That's the beauty about coconuts. They regenerate fast and are able to produce young coconuts, and we have to go and use them for drinking water."
"People way back in the time when I was young, they knew how to read the movement of the wind and the movement of the skies," Dave says. "If they looked up at the skies, they could easily distinguish whether the typhoon is coming. Another thing we knew from the old times: we looked up at the sky and when we saw certain birds flying on the skies, that's when we learned that there's a typhoon coming. And then we could prepare for it.
"We didn't have a radio at that time, so we usually had to be prepared and search for a shelter. At that time, we needed to get ourselves into the cave and hide there for shelter from the typhoon. We didn't have concrete houses like we do now for permanent shelter for those people that are going to be in danger from the typhoon. There were people that found it easier to go to the church for shelter, but other people stayed close to the cave. They had to evacuate themselves to the nearest cave."