"About Inarajan, we know," Larry adds, "that the Spanish forced the people from Gani to move from their home islands to Inarajan and Merizo in 1698. Gani refers to the Mariana islands north of Saipan. The major populated islands of Gani were Anatahan, Sariguan, Alamagan, Pagan, Agrihan, and Asuncion. Earlier the Spanish had consolidated the people in Guam to just a half a dozen villages. The Spanish built a church in Inarajan in 1680. They moved the people from Tinian and settled them in Hagåtna and the Pågo Bay area in 1695."
"There's a part of Inarajan called As Gani," Anne adds, "and they have an actual street sign I remember seeing the last time I was there. But Gani is the word for the northern islands, above Saipan: Pagan, Alamagan, and so on."
Why were the people moved? Larry explains, "Well, the Spanish had a goal that everybody had to live within sound of the church bells. If they could separate people from the existing government and social structure, it would be easier for them to control people, I suspect.
"So we wonder, what did they do with the original people in these places? I suspect that in many cases they forced them to settle in a different area on Guam."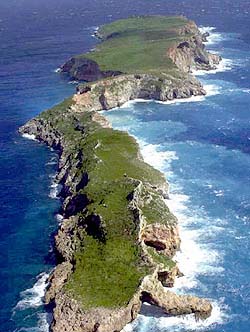 "Ancestor veneration was important in Chamorro culture, and was given a lot of emphasis," Larry says, pointing to another factor in the relocation of Guam's people. "There was a lot of care taken with skeletons, even taking the skulls and keeping them in the house and praying to the ancestral spirits the skulls represented. Also, they made offerings to the skulls after a successful fishing trip.
"Consequently, moving away from the ancestral land would have been demoralizing. That may have been another motive for the Spanish to move Chamorros from their ancestral lands. They wanted to introduce a new religion, to replace ancestor veneration. The Spanish were successful in converting people to the Catholic faith, but many Chamorros still venerate their ancestors. People still ask permission of ancestral spirits to enter certain areas of land, or to gather food in the jungle."