"Apparently the oldest latte stones have been dated back to about 800 A.D. So the period we call the 'Latte Period' is about 800 to 1668, which is when San Vitores arrives. So there's about an 800-year period when these were being built.
"Now the word 'latte' itself means like 'a stone carved,' a stone carving that you pay respect to. The latte stones were primarily limestone in composition. There are some that have been found that look like they've been carved out of the mountains, but the majority of them are limestone. These were burned out, and the Chamorros had a technology for burning limestone, because that's the same lime that people chew with betel nut. You burn down coral until it's just ash.
"Each latte is two pieces. There's a bottom part, the base (haligi, "post") and then a top part (tåsa) that looks like a cup. These lattes would be arranged in two parallel columns, consisting of from six to twelve latte stones total. Two rows of six each is the biggest ones. These were the foundations for houses."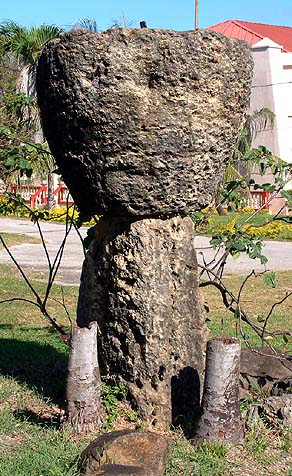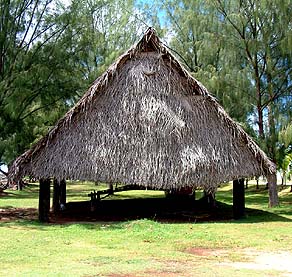 "It's not really known why they started building lattes, but definitely over time they were getting bigger, and so some people have analyzed that as perhaps a competition between villages, between clans. It's like today: the biggest house, the richest person, I guess.

"Now because the connection between the name, the latte itself meaning something carved out of stone that you pay reverence to, there's a connection between the latte itself and the spirit and the ancient religion. Part of the connection is because people are buried around the lattes. But then one man I interviewed, Carlos Taitano, said that just the latte itself, the carving itself, is something you show respect to."
"My assumption is the latte was respected partly because it's carved out of the land, hence the whole connection to nature and respect for nature is part of all of that belief. But the double connection to the burials increases the sacredness of it. So among Chamorros, when you're around lattes, you have to be very careful."