"But it wasn't very successful, because you notice in the villages like Inarajan, the houses were so close together that it didn't leave room for farming. So the Spanish allowed the people to farm on their land. That's why the Chamorro families today all have ranches. That's where people keep their pigs and do their farming, and that was the ancestral land, so that connection wasn't really broken. And the ancestral land even to this day, the ranches, that's all clan land.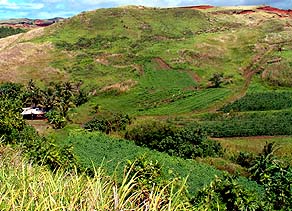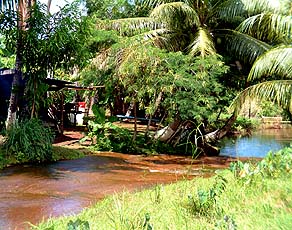 "The ranch concept started way back in the Spanish time," Joe explains, "and this is told from one mouth to another mouth, that the ranch is actually where you became Chamorro. You had a lot of rules, and a lot of laws, that sort of prohibited the Chamorros from being Chamorros. And so you follow the rules at home, at your house, where you sleep, because you were watched then.
"Then a lot of people would have a home away from home, and that's their actual, real home at the ranch. That's where they become Chamorros; that's where you don't have to use napkins, and you don't throw your leftover food in the trash bin, you throw it outside so the chickens can eat it, and that's where you throw your water, whatever water is in your cup, you can just throw it out and it's fine, it's okay.