"Hence two different petitions were being circulated, and it was pretty tough organizing, but they did it. They ended up with 17,000 signatures on the Hui Kalai'aina petition and over 21,000 on the Hui Aloha 'Aina one. And then they raised funds and sent four people up to Washington D. C. to take these petitions up there and meet with the Queen.
"And once they got up there, they formed a committee together with the Queen. They met with Senators and decided, 'We can't submit both of these to the Senate because they are different. We need to submit only one.' They submitted the one from the Hui Aloha 'Aina, and apparently David Kalauokalani, president of Hui Kalai'aina, signed an affidavit saying that he represented 17,000 more signatures of people who were against annexation."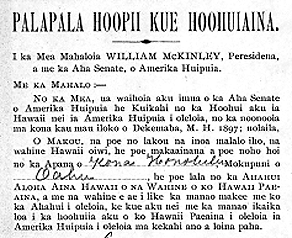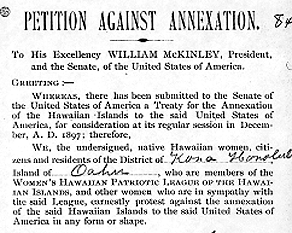 English-language version of the Hui Aloha 'Aina petition.
"They met their friend Senator Pettigrew from South Dakota, and he introduced them to George Hoar who I think was the chair of the Senate Foreign Relations Committee, who prior to this had been in favor of this annexation treaty. Pettigrew took them over there through the snow to Hoar's place and they explained the whole story to him, and showed him the petitions.
"And according to a newspaper article that was written from the letters they sent back, by the time they were done telling them what had been done—how their country had been taken away from them—there were tears in Hoar's eyes. And he said to them, 'I will take this petition and I will introduce it on the Senate floor and get it into the record.' And so he did. And then it was sent over to the Foreign Relations Committee."