"Many groups were out doing things about sovereignty. The Hui Na'auao coalition was the first time it became formal, known for this purpose. And other groups came and said, 'We will join in this education effort, because we have been too disjointed, and together we can get more information out, we can get more research done, and it can be a strategic, combined effort.'
"So even though we may disagree -- some may say, well, I want us to remain part of the US; another one may say, 'No way, I want to be a totally new country;' and everything in between, the spectrum -- we came to the table with this whole spectrum of opinion. We all agreed that it was important to have more people find out about sovereignty issues.
"We had meetings for one year, learning to trust one another, bringing the various groups together so they could understand that we all had different points of view. And we could put them all together; we could come and talk."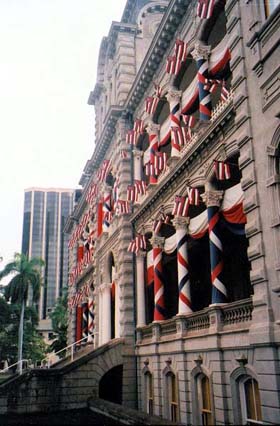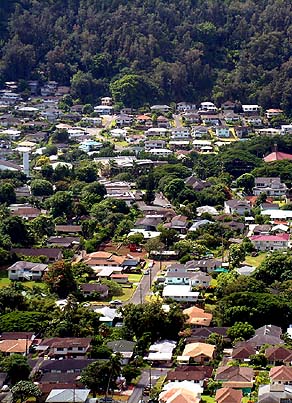 The residential region of central Nu'uanu.
"When the Hui Na'auao formalized, they went looking for an office. It was decided that since we had so many group members with many people coming from the neighbor islands, we really needed a house to be able to house everyone. Also, meetings, and food, for Hawaiians go hand in hand: you have to feed your people, and gather and talk. So right off, we felt that we needed a house, and the group that set out to find one, found one in Nu'uanu. I guess it's very fitting. Nu'uanu is a special area to so many people.
"In that home, we met till past midnight, putting together education materials at different levels, and on different tracks of knowledge: for the one who didn't know anything about sovereignty, to the one who is quite sophisticated and wanted to talk about treaties and so forth. So for almost three years, we met here in Nu'uanu.
"Dr. Kekuni Blaisdell, who's a leading voice in the sovereignty movement, lives in Nu'uanu too, and he felt that it was always very fitting for us to be there, because of how noble Nu'uanu is, this valley. He said, 'We're here for a reason.'"