"The wind is to give us life also. The destruction, like that of earthquakes and typhoons, is to wake us up, change things: our vision, our thinking, the way we see things. And many times I sit down—take the typhoon that's coming. Friday we should have a typhoon [Typhoon Chata'an; July 6, 2002].
"And you know the reason why we're having a typhoon? Every time Guam gets broke, God gives us a typhoon. He creates destruction. I don't want a typhoon, but it always happens that every time Guam gets to be broke, a typhoon comes and destroys the island. Then the Federal Government comes in and bails us out."
Concrete utility poles were toppled in front of Alupang Beach Tower in Tamuning by Typhoon Chata'an.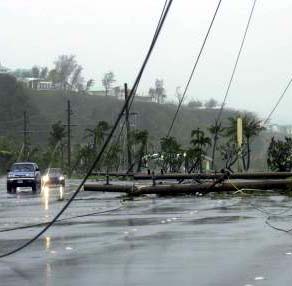 Ron Soliman Photograph, Pacific Daily News. The photo is the property of the Pacific Daily News and cannot be reprinted or used without the company's permission.
Typhoon history on Guam:*

Typhoon Alyn: 1949, hurled a ship in Inarajan Bay against houses on the shore.

Super Typhoon Karen: November 1962, 155-190 mph

Typhoon Pamela: May 1976, 140-160 mph, eye passed directly over Guam

Typhoon Russ: December 1990, 100-125 mph, passed 35 miles south of Guam

Typhoon Yuri: November 1991, 100-125 mph, struck before the holidays

Typhoon Omar: August 1992, 135-150 mph, eye passage over central Guam

Typhoon Paka: December 1997, 145-175 mph, eye passed over north part of Guam. Typhoon Paka became Super Typhoon Paka after it passed Guam.

*Source: Guam's Own ABC-14
"I don't know if you've ever experienced a hurricane or a typhoon. I hope you don't! It will be very interesting for you. For me, I no longer fear those things. I have seen it come and go 100, 200, 300 times. So I don't worry. But for you, I know you're going to worry, because it's about life and death. You have to know what to do, you have to be prepared, and preparation, you have to know what to prepare, and where to go, and when to react.
"I enjoy typhoons. On typhoon, I never run away. I come out here and stand here, even with big waves coming in, or I go by Gådao's Cave, and I stand on that big rock, and I just sit down and watch, get my coffee and whatever, and I just sit. I enjoy it. But children should never go outside in a typhoon. It is too dangerous, the flying objects in the strong wind. We should fear them, but because I have experienced it tremendously, I make myself stand there.
"But for people who haven't experienced that, my advice is, don't do it."