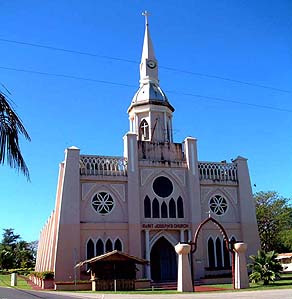 "Before he was tortured, all the people were at the ranch," Tan Floren recalls. "So he mounted his horse, he was wearing his white gown, and he visited from one ranch to another. He visited the people to check on them. And he wasn't scared, no matter what.
"When he was saying the mass here at the church, in the middle of the mass, a couple of Japanese came in, with a gun, and they held the gun on him — but Father Dueñas continued his mass until it was over — he wasn't scared. But they didn't do anything, just stood like this, with the gun. And then the couple of Japanese just walked away. They just tried to scare him, you know? But Father Dueñas, he just continued his mass.
"He visited the people, no matter where, he'd just go in the jungle and find them. And whatever he had, he shared with the family that needed it the most. Us, our ranch, we didn't need it, because my father planted. We had something there like the taro, banana, and we had some breadfruit.

"Father Dueñas, he was so brave a man, you know? He didn't care what happened to him."