"In the old days, the family gave raw meat to people who came to attend the rosary. Today mostly we get families who will contribute. There are some friends who would give money and this money would be used to buy food.
"Today it is so expensive because from day one, they serve solid food, every night you put out solid food and you're looking at two or three thousand dollars' worth of food that is prepared. You're not thinking of the labor, you're thinking only of the cost to purchase them. Aside from purchasing them, you're going to have to cook them and that's a whole day's job.
"And so nine nights of feeding people is very expensive, then the other nine nights, food would be served on a smaller scale because it's now known to be only the family members or good friends."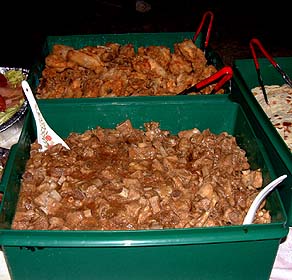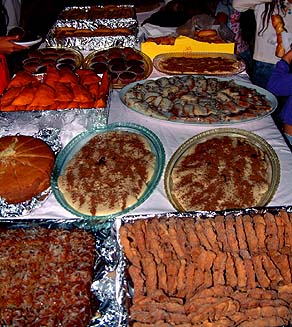 "Somebody in the family would keep track as to who comes, who is there, what they bring, and then when they have the same thing happen, they will reciprocate. They would bring things of comparable costs. They remember that you showed up, so that when your turn comes, we make sure that we show up there too.
"That has been happening from when I was young, although it has changed tremendously with the advent of commercialization and the availability of a lot of goods.
"In the olden days, there were very few stores and very little money, and so you could only buy biscuits, butter, jam, stuff like that—the basic necessities to say 'Thank you for your prayers, thank you for coming, thank you for helping us.' It has changed tremendously today."
"Today even the attendees bring something. They say, 'Let's bring some food, let's bring pizza or bring something from the store. Let's bring bottles of water.' Those things are now pretty common."
"The food has changed," Noel agrees. "The table has become longer. There's more food. So now, instead of fresh meat, you get to eat chicken, meat and other foods. And now every night there's food all over the place. And there's beers everywhere. So it's really changed. To me, it's just not right."