"Fiighiiló is the burning of the leftover possessions, the actual burning," Ben explains. Fiighii means "burn" and ló means "away." Ben says, "We'd burn clothing, materials, and properties of the deceased."
"When a person died," Pete reiterates, "all his belongings were put into the casket, but whatever new things that they cannot put inside the casket, they took and burned that. It's a special ceremony, held in an isolated place, a secret place. You have to go away from the mainland, and get away from the people."
"And Tanapag is the mainland," Ben adds, "because there's a lot of people here, you go down there and you burn it away from other family members. Only your family will go there and help out with disposing of the deceased's property."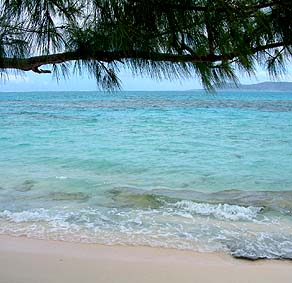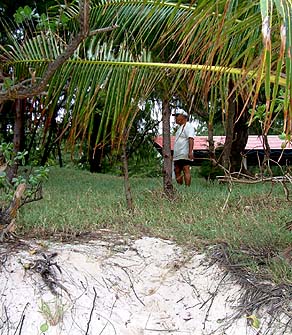 "I attended once," Ben recounts. "I could not recall the person who died at that time, but my adopted father owns a boat and everybody in the village would ask, 'can we use your boat to take down this property of the deceased.' And now I know that the coffin is not big enough and sometimes the deceased would have a lot of clothing or materials and it cannot fit into the coffin. The fiighiiló is the one that is the left over that we would go down and take it to Managaha and burn this property."
"Some like me, we don't go to Managaha," Rosa says, "because we don't have a boat, we just take it down to Lower Base, next to Dillingham, and we burn there. My niece's clothes, we burned. We threw in everything we took and we burned it. Some, they just burn outside the house when it's four days after the burial. That is the custom. It's a Carolinian custom. It's not Chamorro, only Carolinian."