Tan Floren Meno Paulino: "I lived here, before. I grew up here in Inarajan. This is where I was born. Before we had like this kind of house," Tan Floren gestures to the thatched huts of Gef Pa'go cultural village, where she demonstrates traditional weaving. "But when we had a little money, my brother saved, and we built a concrete house. Since Typhoon Paka knocked out our old house, we had to move up to Malojloj. My house is not hard to find, just by the highway.
"I learned pandanus weaving when I was small. At school, some of them were teaching us. But I just kept doing it a little at a time, and now I'm here at Gef Pa'go village."
("Tan" is an honorific used for female elders ; "Tun" is used for male elders).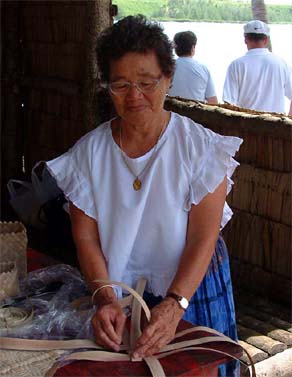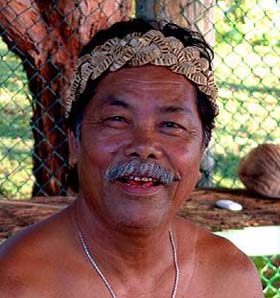 Ben Meno: "Ever since I was a young boy, I was so interested in my community and my people, the culture and tradition, so I wrote those things down. I learned weaving and carving, and also I'm a singer in the Chamorrita. I teach people, I share this knowledge, because people should not take such beautiful knowledge and lock it in the heart and the mind.
"As Jesus explained in the Gospel, no one should light a candle and cover it with a basket. You light the candle and expose it, where it will take you where you want. There's beauty in everything--the rain, the wind, and the sun. Even the pounding of the water, the big waves, there's beauty in that."