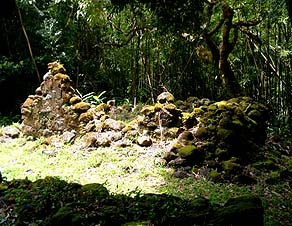 At Kaniakapupu, the Hawaiians were accommodated outdoors in "two long lanais, or open-sided ti-leaf structures, thickly floored with rushes, and numerous booths." The "foreign guests," however, were seated at tables in the cottage, and were served food cooked "in the foreign style." Members of the royal party were seated outside.
Before dinner the guests were entertained with some of the ancient games, including spear-throwing, lua (the art of bone breaking), and hakoko (wrestling). The most noted expert performer of the day was John 'I'i, who had been a retainer to the Kamehameha family. As Rev. H. H. Parker (1937) described it,
"In a suit of dark broadcloth he stood in an open square or field, a brilliant yellow feather cape over his shoulders and in his hand a beautifully polished spear. Alone, erect, nearly six feet in height, bull chested and muscular, he presented a splendid figure. Opposite him on the mauka or inland side, stood a group of expert spear men wearing yellow feather tippets and armed with spears tipped with a kind of soft, bushing material. At the signal the weapons began to fly at the human target. 'I'i at first parried with his single lance, but presently, as the shots became faster, seizing a passing spear aimed at him and parried with both weapons until the play ended amid the prolonged cheers of a great crowd ...."
Feeding this enormous multitude was no small task. The provisions for the feast are described as 271 hogs, 482 large calabashes of poi, 602 chickens, 3 whole oxen, 2 barrels salt pork, 2 barrels biscuit, 3,125 salt fish, 1,820 fresh fish, 12 barrels lu'au and cabbages, 4 barrels onions, 80 bunches bananas, 55 pineapples, 10 barrels potatoes, 55 ducks, 82 turkeys, 2,245 coconuts, 4,000 heads of taro, 180 squid, oranges, limes, grapes and various fruits. It was estimated that there was enough to feed 12,000 persons, and that 10,000 actually were present. The Hawaiian Annual's (1930) recounting adds,
"While the feast was going on, several old women in the immediate neighborhood of where the King sat, kept up a constant chanting of meles in his honor and that of his ancestors, accompanying the chant with gyrations and motions of the arms. And in the evening, after the most of the company had departed, a company of hula girls gave a concert with their attendant drum and calabash beaters."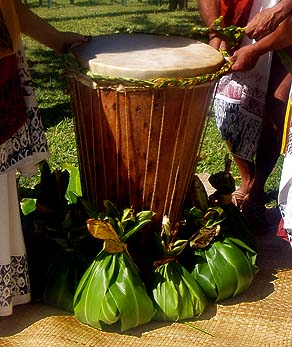 Hula pahu (drum).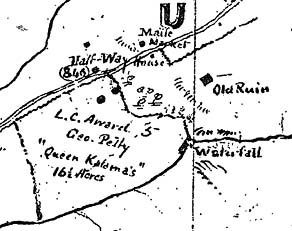 What happened to this site after 1847 is unclear. No records have been found so far. An 1874 map notes the site as an "Old Ruin," which is taken as an indication that it had, by that point, been neglected for some time. Others feel that this site has been intentionally neglected down to today. Could it have become nothing more than an "old ruin" so quickly?
As we will see in the Visitors chapter, a chunk of the the Luakaha area just below Kaniakapupu moved from being Crown Land to private property. In the Onwards chapter, we will see that there is a strong movement today to restore this site and call attention to its importance in the history of Hawai'i.