Pele, goddess of the volcano, is also associated with the creation stories. Sam explains, "There are various craters that are present from Kaua'i all the way down to Hawai'i, which are pointed to as places where the goddess Pele lived for a while. But I'm not familiar with her visiting any specific ones in the Kohala mountains, although there are very prominent cinder cones along the ridge. Maybe some place-name research might come up with some connections there."
Pele came to make her home in the Halema'uma'u fire pit of Kilauea crater, and the stories of her and her family are numerous, stretching across the entire Hawaiian chain. Here on the Big Island of Hawai'i, her story intersects with that of another legendary being: the pig-god Kamapua'a.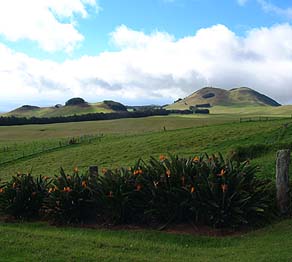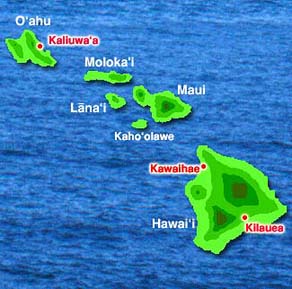 "Kamapua'a is mostly a Kaua'i and O'ahu kupua," Sam continues, "born on Kaua'i of Hina and Kahiki'ula as a premature kind of formless fetus. The parents wanted to discard him, but the grandmother Kamaunuaniho, said 'No, let me take care,' and so she placed it on the kuahu [altar] of the family and prayed, and in a little while there was a pig. And that pig kupua is pretty famous for being able to change into a human being or a humuhumunukunukuapua'a, or a variety of different plants and animals, all mostly forms of Lono."
"Kamapua'a was living in Kaliuwa'a on O'ahu, having ousted Olopana, the chief there, when he started having dreams of flames. And these dreams would keep him up and they were driving him crazy. And he new that the flames were coming from the island of Hawai'i, from Kilauea, so he decided he would go there to put the flames out."