"The American soldiers brought us straight down to Susupe," Rosa Castro recalls. "They would divide this camp, locals on this side and Japanese on the other side. The first day they got us there, we slept on the ground. There was a house but no floor, only the ground. We stayed about five or six months. They brought a truckload of shoes, maybe from the dead people. We had to make those shoes into zoris, slippers.
"They brought a truckload of cans, empty cans, like one-gallon food cans. That was our pot, and our cup to drink water. And the wood we got from broken houses. They would bring truckloads of that wood for our firewood. For our food, they would bring a bagful of beans, and ham. The Americans now were supplying us with food."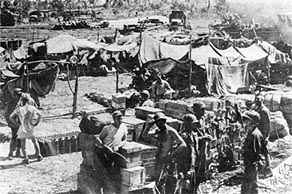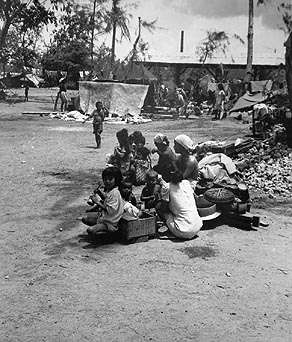 "The life in camp is more or less a kind of hand-out," Jesus explains. "You got food, and you just stayed in the camp. They brought in raw food, like rice and raw meat, and they cooked it themselves. In the camp, we were not allowed to go outside. The Military Police would keep us inside.
"But mostly what we did there was clean the camp, cook the food, and help the American military—whatever they asked us to do to help them. Our life was good, because the Americans assisted us. We had food, water, and toilet. We were living in a house, not a tent. It was comfortable. We really had a good life then, when the Americans came in."
"They started to open up the first school in the camp," Noel adds. "And aside from getting their clothes and their food and everything, they wanted to teach the kids about their past, so they built a place to do their arts and crafts, to make a living out of it, and to do something worthwhile inside the internment camps."
"They made crafts there, using the war materials: lanterns and containers made out of artillery shells. There are carvings from Carolinians depicting their place in Yap and in Palau. People made cloth, they made baskets, seed necklaces, cigarette boxes, bracelets from the war plane remnants. In this way, they made time worthwhile, doing more than just tending their wounds.
"Aside from 'one, two, three, apple,' one thing the Chamorro will never forget is SPAM. Corned beef and SPAM."